Z-Arm 2140 Core Facts
* Drawing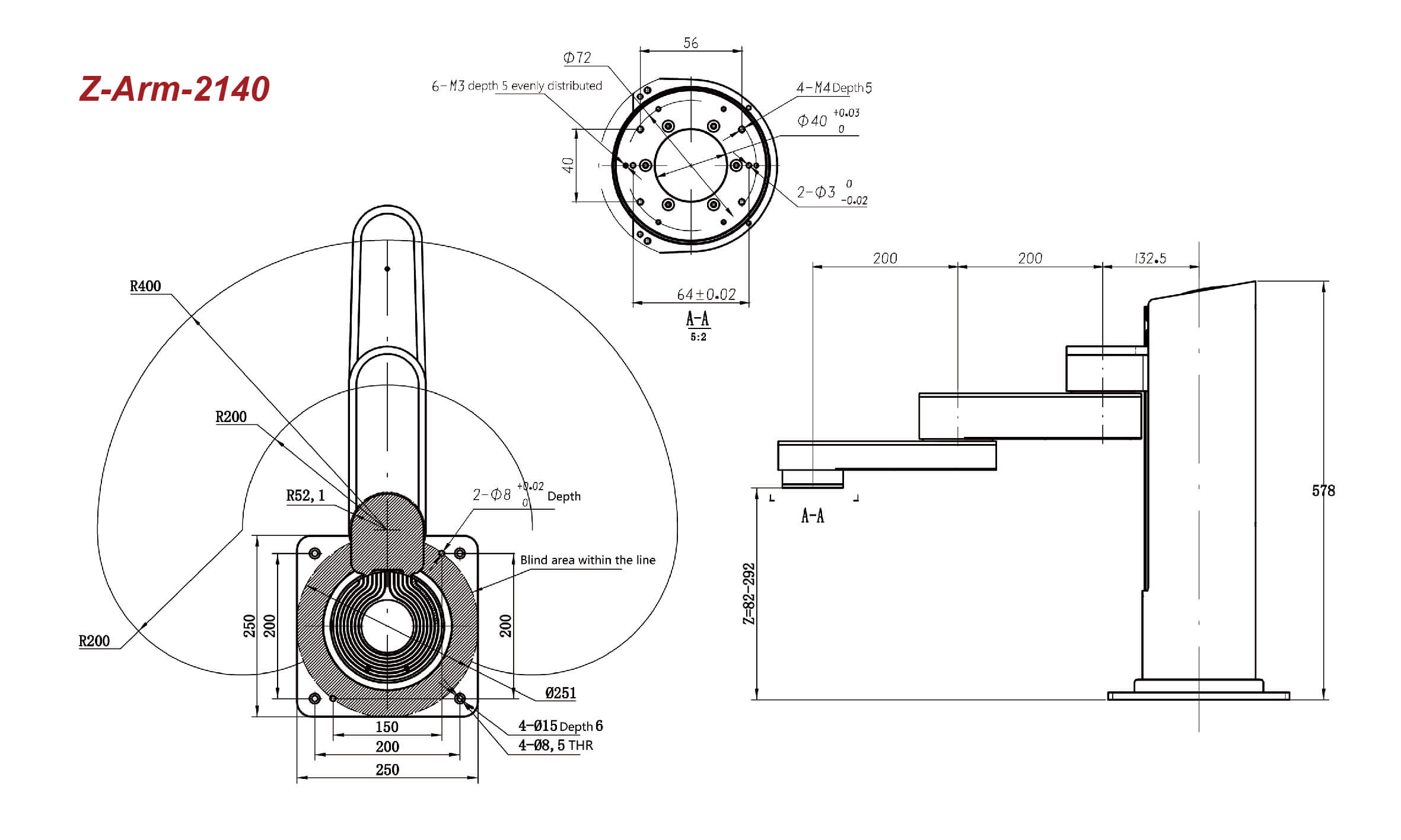 Product Features
Enhanced Payload Capacity
Comparing to its predecessors, Z-arm 2140 improves its payload capacity by 2 times, reaching up to 3KG. It will be a best contender for material handling and assembly tasks.
Safety and Stability
As a table-top collaborative robot, Hitbot Z-arm 2140 does pretty well in guaranteeing safety via collision detection and improving productivity by fast movement at 1255.45mm/s (with 1.5KG payload) and reliable repeatability of ±0.03mm.
Intelligent Programming
Hitbot Z-arm 2140 mainly can be easily set up in two methods. Users can utilize the self-developed one-stop APP HitbotStudio, or manually drag-and-drop the cobot itself to realizing machine teaching. Both only take about 20 minutes.
Open-sourced Hardware
Hitbot Z-arm 2140 is an open-sourced hardware cobot, which can be customized by customers themselves based on specific requirements. Supported programming languages includes V-rep, Ros, Matlab, Java, Paython and etc.
Various Optional Add-ons
With various optional end-tool kits, like electric grippers, the fifth axis kit, and Wi-Fi module, users can create unlimited application scenarios of future production right on the workbench.
Flexible Applications
Z-arm 2140 is ideal for a wide range of industries including the electronic, food and beverage, machinery, solar, pharmaceutical, medical and research sectors.
Applications

Model
Z-arm 2140
Programming software
HitbotStudio
Number of axis
4
Rated payload
2KG
Maximum payload
3KG
Maximum reach
400mm
J1 reach(1st-axis)
200mm
J2 reach(2nd-axis)
200mm
J1 rotation (1st-axis)
±90°
J2 rotation (1st-axis)
±164°
Z-axis reach
210mm
Repeatability
±0.03mm
Connectivity
Wi-Fi/Ethernet
I/O port
Digital input (isolated): 5
Digital output (isolated): 5
Collision detection
Supported
Drag to teach
Supported