Z-Arm 1832 Core Facts
* Drawing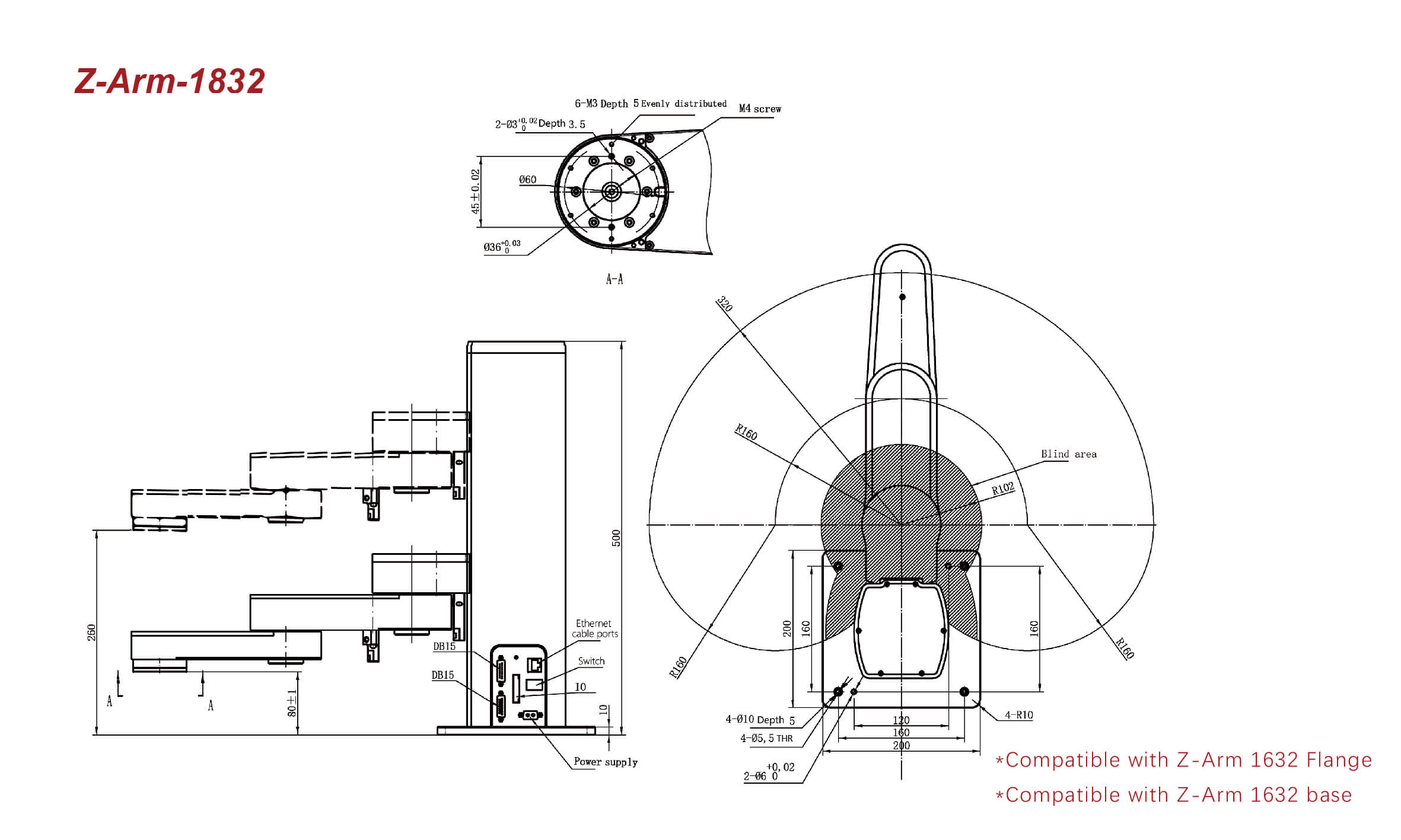 Product Features
Smart Programming
HITBOT Z-arm 1832 is quite smart, enabling operators with no programming experience to complete the programming process by simply dragging and dropping the arm to specific points or setting specifications in the HitbotStudio APP, which only takes 20mins in total. Productivity starts right from the beginning!
Optimized Work Range
Remaining its compact footprint of 250x250mm, HITBOT Z-arm 1832 has extended the vertical reach to 180mm, which means more automated productivity at tabletop. With rotation angle reaches ±143°, Z-arm 1832 reduce the blind spot area and reaches great fleibility at its best.
Multiple Applications
HITBOT Z-arm 1832 is definitely a versatile arm adept at doing things in various layouts and different industries, such as visual sorting, component assembly, and more. In the given area, multiple pieces of Z-arm 1832 can work together at the same time to meet manufacturing needs, even upgrading your production line to be 100% automatic.
Smart Collaboration
HITBOT Z-arm 1832 is a smart cobot, which is not only for replacing human workers in dull and repetitive strains, but also enables working with human workers in collaboration to improve efficiency. It support collision detection to reduce potential accidents. Safer environment ensured!
Reliable Precision
HITBOT Z-arm 1832 keeps its repeatability precision at ±0.02mm within its working range, arm range up to 320mm and Z-axis range up to 160mm. Users will never have to worry about any possible errors.
Plug and Play
HITBOT makes Z-arm 1832 packed as a ready-to-use machine. Users can put HITBOT Z-arm into action right out of the box. Plug it in and turn it on, productivity speeds immediately on your workbench!
Applications

Model
Z-arm 1832
Programming software
HitbotStudio
Number of axis
4
Rated payload
0.5KG
Maximum payload
1KG
Maximum reach
320mm
J1 reach(1st-axis)
160mm
J2 reach(2nd-axis)
160mm
J1 rotation (1st-axis)
±90°
J2 rotation (1st-axis)
±143°
Z-axis reach
180mm
Repeatability
±0.02mm
Connectivity
Wi-Fi/Ethernet
I/O port
Digital input (isolated): 5
Digital output (isolated): 5
Collision detection
Supported
Drag to teach
Supported